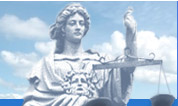 SIEGLINDE BUCHNER-HOHNER
&
JÜRGEN NIEMEYER
Lawyers
Firm Profile
You can profit from our combined expertise and experience in the following areas fo law:
Family law

also including divorce and separation according to Italian law

Criminal law

Various criminal offenses, especially traffic violations
We also offer professional assistance in preparation for the medical-psycological examination (MPU) of the Motor Vehicle Bureau
Business law invluding penal offenses

Mediation in the fields of family and business law

We seek to provide our clients with unconventional extrajudicial solutions to accomplish mutual consent where possible. Court cases often go on for years and often are very expensive. Mediation is the answer to efficient and quicker solutions.
Apart from legal knowledge, we also provide you with persuasiveness and communicative capabilities.